Custom, Solutions-Based Supply Chain Inventory Management
Managing your inventory is a balancing act. You need to maintain full availability of the parts and products you need without wasting time, space or money. As a partner for outsourced purchasing, we serve a large and diverse base of original equipment manufacturers (OEMs) and assembly plants.

We simplify your inventory processes by managing multiple vendor relationships on your behalf, helping you secure better pricing and avoid bottlenecks in your production process. Our inventory-management services make parts management more efficient and economical.

We don't just look at C-part costs; we view inventory through the lens of your entire business and apply our trusted expertise to analyzing your existing processes. We negotiate directly with other manufacturers, eliminating that task from your domain. The aim is to create a holistic, solutions-based inventory management solution for your supply chain.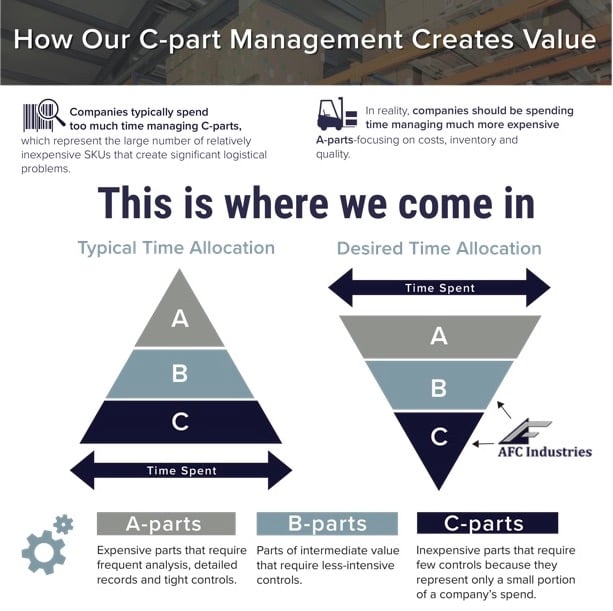 Flexible Inventory Solutions for Unique Business Needs
We recognize that each industry has its own variables, and every company is unique. Our approach, while based on abundant experience, is highly customized. It's not a one-and-done solution, and we don't assume answers before having conversations. Depending on your needs, we offer full-service vendor management, self-managed platforms, in-plant storeroom management on-site purchasing support and other customized services.
Custom Cutting Tools and Disposable Tooling
We've cultivated lasting relationships with product suppliers that enable us to leverage and negotiate on your behalf. Our ability to draw from our vast network of carefully vetted sourcing options around the world means we can source strategically for you.

At the same time, our local representation gives you a dedicated team of representatives specifically trained on your parts and processes. This hands-on approach, regardless of the services you utilize, results in benefits such as fewer stock-outs, reduced inventory, flexible invoicing options, vendor consolidation and more.

Customized Inventory Management Solutions
Ready to start a conversation with AFC Industries?
Locate a rep in your area.