United to Serve Your Supply Chain Needs
AFC Industries is a growing organization dedicated to providing supply chain expertise, inventory management solutions, C-parts and technical service support to its customer partners.
With original headquarters near Cincinnati, Ohio, we grow organically and through the acquisition of like-minded, customer-driven organizations all over North America.
Just a Few of the Industries We Support
Our customers are original equipment manufacturers (OEMs) and assembly plants across a diverse range of industries and company types.
Automotive
Defense
Fluid-handling
Food equipment

Lighting
Medical
Transportation
Solar energy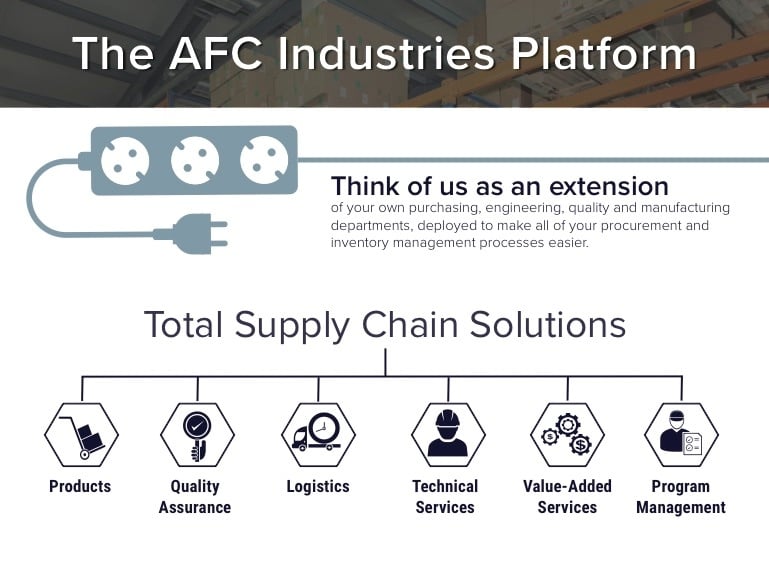 Inventory Expertise and Customized Solutions
Our vast resources allow us to support your supply chain needs in various strategic ways, with customized solutions that work for your specific inventory needs. We specialize in vendor-managed inventory (VMI) systems and solutions including point-of-use delivery, Kanban, just-in-time (JIT) delivery and on-site purchasing support.
Read more about our inventory management solutions.
A Deep Specialization in Sourcing C-Parts
With product expertise in the distribution and inventory management of C-parts, we remove the pain of sourcing low-cost/high-SKU-count items that are typically a headache for OEMs to source, purchase, inspect, stock and manage. We eliminate that headache with trusted procurement so you can focus on your core manufacturing competencies.
Read more about C-parts we supply.
More Value for Your Money
Our goal is to make your supply chain more efficient and economical. Beyond our inventory management services and C-parts supply, we offer several value-added solutions such as kitting, assembly and custom packaging. We fully manage these products and services on your behalf, so you can check this item off your list.
Read more about our value-added services.
National Technical Resources for Your Local Projects
We deploy experts in value engineering, value analysis and other areas to help you assess your design and manufacturing processes, so you can eliminate inefficiencies and create higher-value products for less cost.
Read more about our technical services.
Our Mission and Promise to You
AFC Industries' mission is to make our customers, employees and shareholders more successful by providing exceptional quality, service and expertise in the products and services we provi